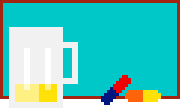 Beer, Data, + Drugs is an invite-only event to celebrate working in drug discovery.
This is a safe — and fun! — space for researchers and scientists to discuss everything from their day-to-day to novel discoveries, and the best tools to advance science.
Beer, Data, + Drugs is invite-only to promote a safe a fun community in drug discovery. Space is limited, but if you'd like to attend our next event, please let us know a little more about you.

Subscribe to receive a notification for the next Beer, Data, + Drugs. You can opt out at any time.
It's easy to get in touch with an Abzoid.
Fill out the form below, and an Abzoid will be in touch in 24 hours.
Reach us during standard CET business hours at +45 31 23 47 64.