I recently attended Nordic Fintech Week, and it was such an enlightening experience. To say it was all about AI would not be an exaggeration; AI was the heartbeat of every debate and discussion.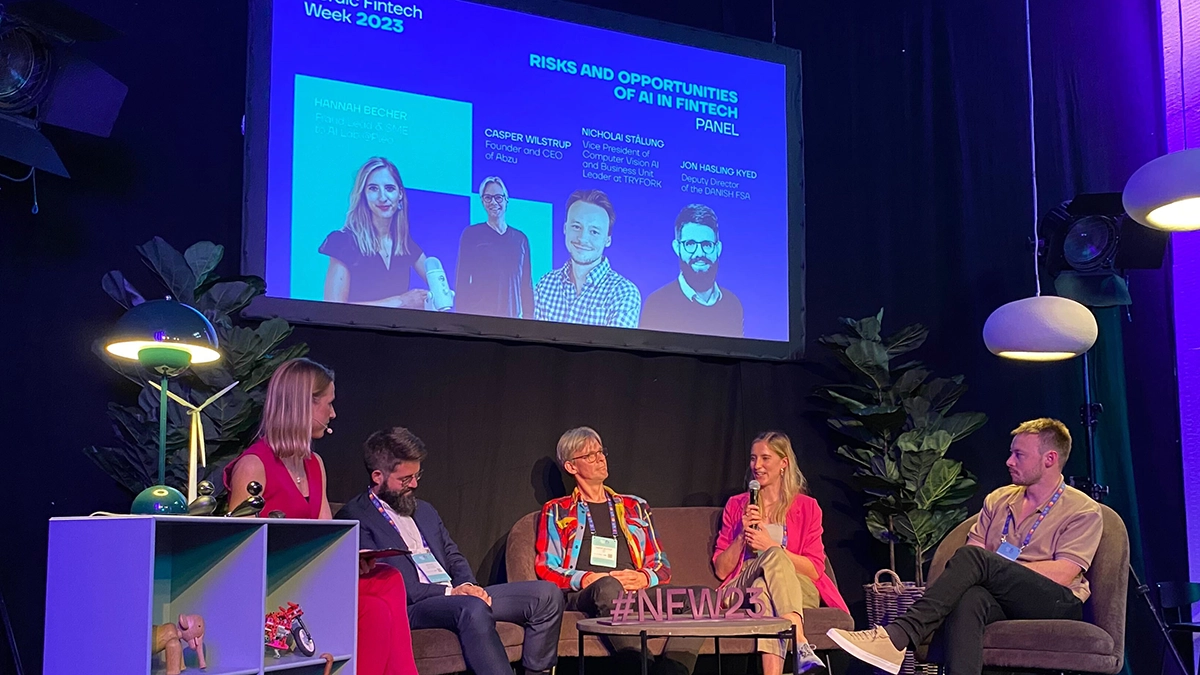 AI in Fintech: A glimpse into the future?
Or a reflection of concern?
While I felt that the conference provided a glimpse into how AI is shaping Fintech, it's important to remember that these conferences don't necessarily mirror the market. They are a lens through which we can view what people are contemplating. And believe me, people are thinking about AI! It was like AI had a starring role in a movie named Fintech.
The two faces of the financial sector.
AI is making inroads into Fintech, but its penetration into traditional financial sectors like banking and insurance is still in its infancy. I find this observation interesting because it signals a cautious approach, especially from those who have the responsibility of overseeing regulations.
An ethical perspective: Why trust matters.
I had a stimulating conversation with a Danish regulator, and I found myself nodding in agreement with many of his conservative views. Trust is the cornerstone of any industry, particularly one that doesn't enjoy an overwhelmingly positive reputation, such as the financial sector. Trust is something you feel, something you give based on a set of conditions that include transparency and a track record of reliable actions.
What if we set a mission for the financial industry that in five years, if you stop people on the street and say, "What do you think about the financial industry? What do you think about banks?" They reply, "Man! Those guys are trustworthy! Why can't everyone be like the banks? Then the world would be a much nicer and safer and more trustworthy place to live."
A short story: Building trust in AI in the financial industry.
If our aspiration was to create such an environment of trust in the financial industry, do you think it would be a good idea today to apply completely untransparent black-box models to determine whether a customer can get credit? Probably not the most ideal way to get there.
Let me give you another example: Would you think that a good way to get there would be to make sure that people could no longer speak with a human when they contact the bank? That they could only speak with the chat bot? Probably not.
Another example: Would you think a good way to get there would be by just automating work processes that are currently completed by large groups of staff, without consulting them about whether they wanted those processes to be automated or not? Probably not.
So to reach that pinnacle of trust in the financial industry, introducing opaque, black-box AI models would be a misstep. This does not mean that AI has no role. On the contrary, AI has the potential to rebuild trust. However, it requires a thoughtful approach.
Technology with conscience: Why I align with regulators.
Yes, I am an AI vendor, but my philosophy aligns with that of regulators in the financial sector. In my company, Abzu, we aim to create AI systems that are trustworthy and transparent. If your mission is to build trust, then why take unnecessary risks with unproven technologies?
Transparent AI: A must in trust-building.
If we apply AI to fields like credit scoring, the AI system must not only be right but also transparent. A customer should be able to ask, "Why didn't I qualify for this loan?," and the system should be able to explain the reason in a transparent manner.
Five years down the line, if we aim for the financial industry to be considered more trustworthy than it is today, the use of AI is not off the table. But it calls for a cautious approach where employee involvement, customer consultation, and offering choices and transparency are paramount.
So, let's aspire to build an industry we can all be proud of. Go with trustworthy AI technologies, and be mindful of the ethical implications. And if you're looking for a trustworthy AI technology, well, I might just know where you can find one.
We at Abzu had the privilege of being a prominent player in the future of AI in fintech: A journey marked by trust, where we must balance the capabilities of AI with human touch.
Abzu, the Danish/Spanish startup that builds trustworthy AI to tackle complex challenges for the world's leading companies., welcomes Kasper Sommer as its new Chief Financial Officer.
Casper Wilstrup, a global expert in explainable, trustworthy AI, tells Jyske Bank TV at Nordic Fintech Week why both the answer and the reasoning behind the answer are important in AI applications.