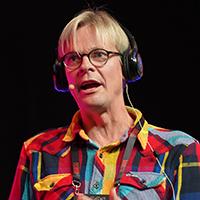 Is AI dead? Hype, reality & responsibility on a global scale
Is AI as scary as everyone thinks it is?
This conversation will look at AI from an ethical perspective, and foster a conversation about what it can and cannot do in reality. (Will it take over our jobs? Could AI become sentient?)
In this discussion, we're going to get real while also being responsible about what AI really means for the future of our culture and workforce from human rights, business, and consumer perspectives.
TechBBQ started as a small BBQ gathering for tech enthusiasts and entrepreneurs back in 2013. Over the years, it has transformed into the largest and most "hyggelig" event of its kind in Scandinavia.
The annual summit connects tech & hygge: Talk about the latest trends, network in a cozy atmosphere, listen to trendsetting & inspiring speakers, and enjoy some good old-fashioned BBQ. In 2020, TechBBQ, hosted its 10th annual event!
TechBBQ's main goal is to support and strengthen the Nordic ecosystem by fostering growth for startups and scaleups.